Golden Tickets: A. Peterson, B. Burns, and M. Sanu
Posted by Madden Ultimate team
May 14, 2020 in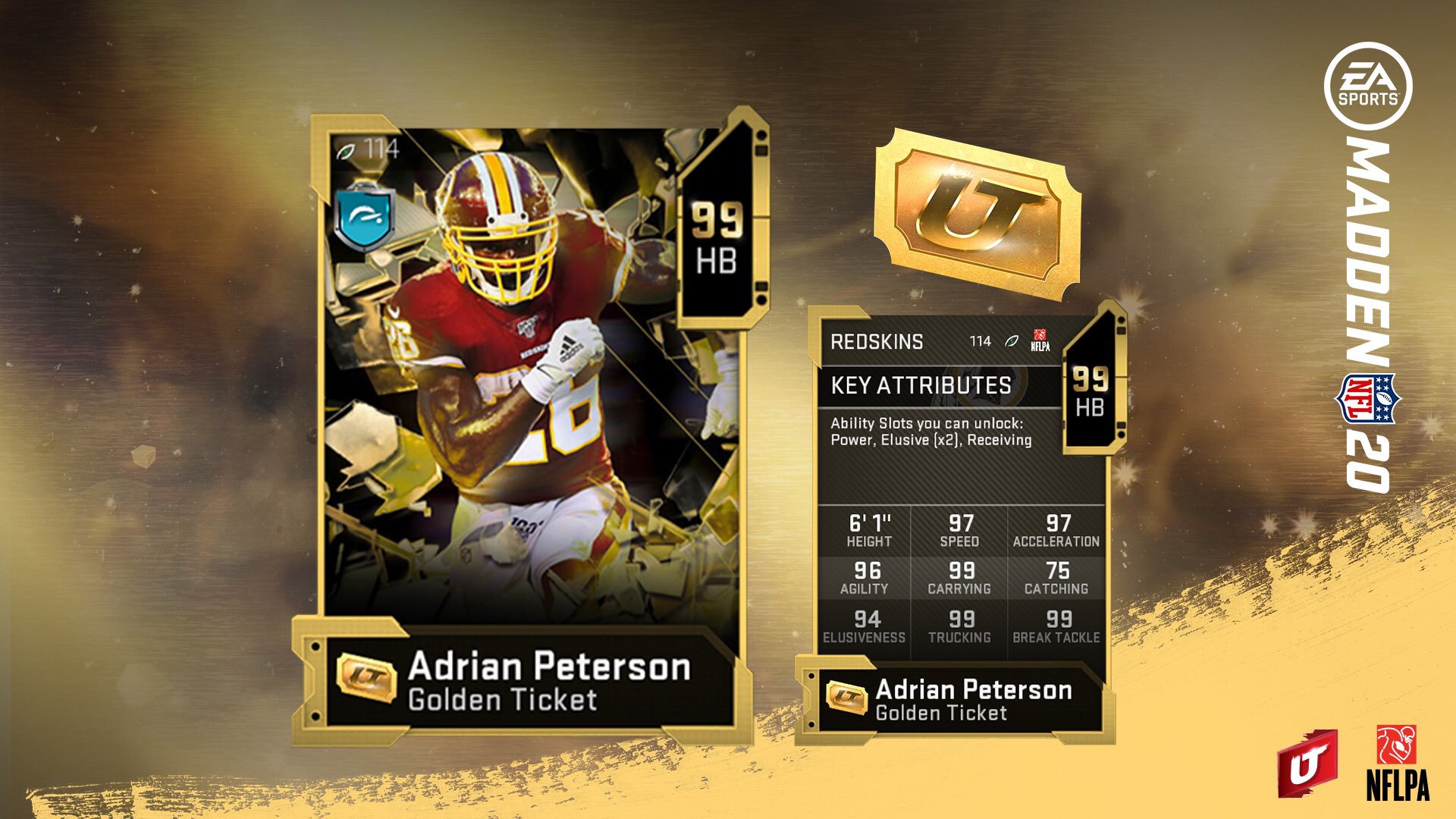 Source: www.muthead.com
Brian Burns, Mohamed Sanu Sr (QB), and "All Day" Adrian Peterson are today's latest Golden Tickets released by EA. GT Brian Burns is a Speed Rusher OLB with notable ratings of 94 SPD, 97 ACC, 99 PUR, 99 POW, and 99 FMV. Mohamed Sanu Sr (QB) is a creative selection and offers some major upgrades over his OOP item with +8 SPD, +10 ACC, +15 CAR, +15 BTK, and +11 to SAC, MAC, and DAC. Golden Tickets just wouldn't feel complete without an Adrian Peterson item and this one delivers. GT AP boasts some notable ratings of 97 SPD, 97 ACC, 99 TRK, 99 SFA, 99 JKM, 99 CAR, and 99 BTK!
Golden Tickets are not Power Up eligible but will allow you to select Team Chemistry based on all the teams they played for during their career. All Golden Tickets will stay in packs for the remainder of the year with an increased chance of pulling them within the first 48 hours. Check out all of today's Golden Tickets and their full ratings below:
Click the following links to view previous week's Golden Tickets: Week 1 – Week 2 – Week 3 – Week 4 – Week 5
For a refresher on how Golden Tickets were determined, Click Here.
Will you be going after any of today's Golden Tickets for your squad? Share your thoughts with us on today's content in the comments below.